New 2023 Honda Civic Type R Beats Previous Nürburgring Nordschleife Record For Fastest Lap For FWD Model
The new Honda Civic Type R has passed the previous record of 7:45.399 set by the Renault Megane R.S. Trophy-R in 2019. The new time to beat is 7:44.881 on the 20.82-kilometre track.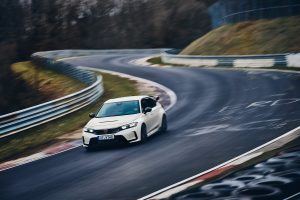 Unfortunately for us in North America, this is not the 2023 Civic Type R we will see on the roads soon. The version on the infamous Nürburgring Nordschleife track this year is the Civic Type R S which is slightly lighter than the standard Civic Type R.
If you keep track of this kind of event you might be questioning why the previous Civic Type R record of 7:43.80 set in 2017 is not still the record to beat. In 2019 the track expanded from 12.8 miles to 12.94. This means exact time comparisons can't be drawn against the old track standards.
Civic Type R's newfound speed can be accredited to the additional downforce taken from the rear wing and underfloor elements. Additionally, the 35mm longer wheelbase paired with multilink rear suspension and a wider rear track provides more stability than the previous Civic Type R model.
The 2023 Honda Civic Type R has also become the fastest Front-Wheel Drive vehicle at Virginia International Raceway with a time of 2:58.8 surpassing its old record by 1.9 seconds on the older Type R limited edition.
The 2023 CTR has been revamped six years later and has again become the fastest FWD model on the Nürburgring. Below is some footage of the preparation and the new Civic Type R in action from March 24th, 2023 on the Nürburgring in Germany.
If you want more information on the 2023 Honda Civic Type R, you can check out our research page below.