2023 Honda Pilot vs 2023 Kia Telluride vs 2023 Hyundai Palisade Comparison
Honda Pilot
kia telluride
hyundai palisade
3-row SUVs are the perfect family utility vehicles, with enough room to handle everything you can throw at it or in it. The Honda Pilot has been a staple of the midsize SUV segment for years, while both the Kia Telluride and Hyundai Palisade have burst onto the scene in recent years. These 8-seater SUVs have many of the same strengths, like spacious interiors, strong standard V6 engines, and good standard safety features, but there are some key differences to know before making your purchase.
Pricing
All 3 SUVs have very similar price points across their trim levels, with the Palisade slightly edging out the Pilot and Telluride for entry price. All prices listed below include all freight and transportation charges:
| | | | |
| --- | --- | --- | --- |
| Vehicle | 2023 Honda Pilot | 2023 Kia Telluride | 2023 Hyundai Palisade |
| Starting Price  | $52,726 | $52,866 | $50,706 |
| Fully Loaded Price | $64,926 | $65,466 | $59,506 |
Both the Pilot and Telluride offer more flexibility with 5 trim options, while the Palisade offers 3 distinct trim levels to choose from. This helps account for the price difference you see above, especially on the fully loaded trims as both the Telluride and Pilot offer higher luxury versions than what the Palisade can offer. 
pilot
telluride
palisade
| | | | |
| --- | --- | --- | --- |
| Vehicle | 2023 Honda Pilot | 2023 Kia Telluride | 2023 Hyundai Palisade |
| Base Engine | 3.5-litre, 24-valve, Direct Injection, DOHC, i-VTEC V6 (285 Horsepower / 262 lb-ft of torque) | 3.8L V6 GDI (Gasoline Direct Injected) engine (291 Horsepower / 262 lb-ft of torque) | 3.8L Gasoline Direct Injection V6 engine (291 Horsepower / 262 lb-ft of torque) |
| Fuel Economy (L/100 KM) City /Hwy /Combined | 12.4 / 9.3 / 11.0 L/100 KM  | 12.8 / 9.8 / 11.4 L/100 KM | 12.8 / 9.8 / 11.4 L/100 KM |
The Telluride and Hyundai offer essentially an identical engine option, while the Pilot offers a very similar v6 setup, which offers slightly better fuel economy over the Kia and Hyundai. All three vehicles come standard with 20-inch wheels and provide a powerful and responsive engine that can tow up to 5000 pounds. 
pilot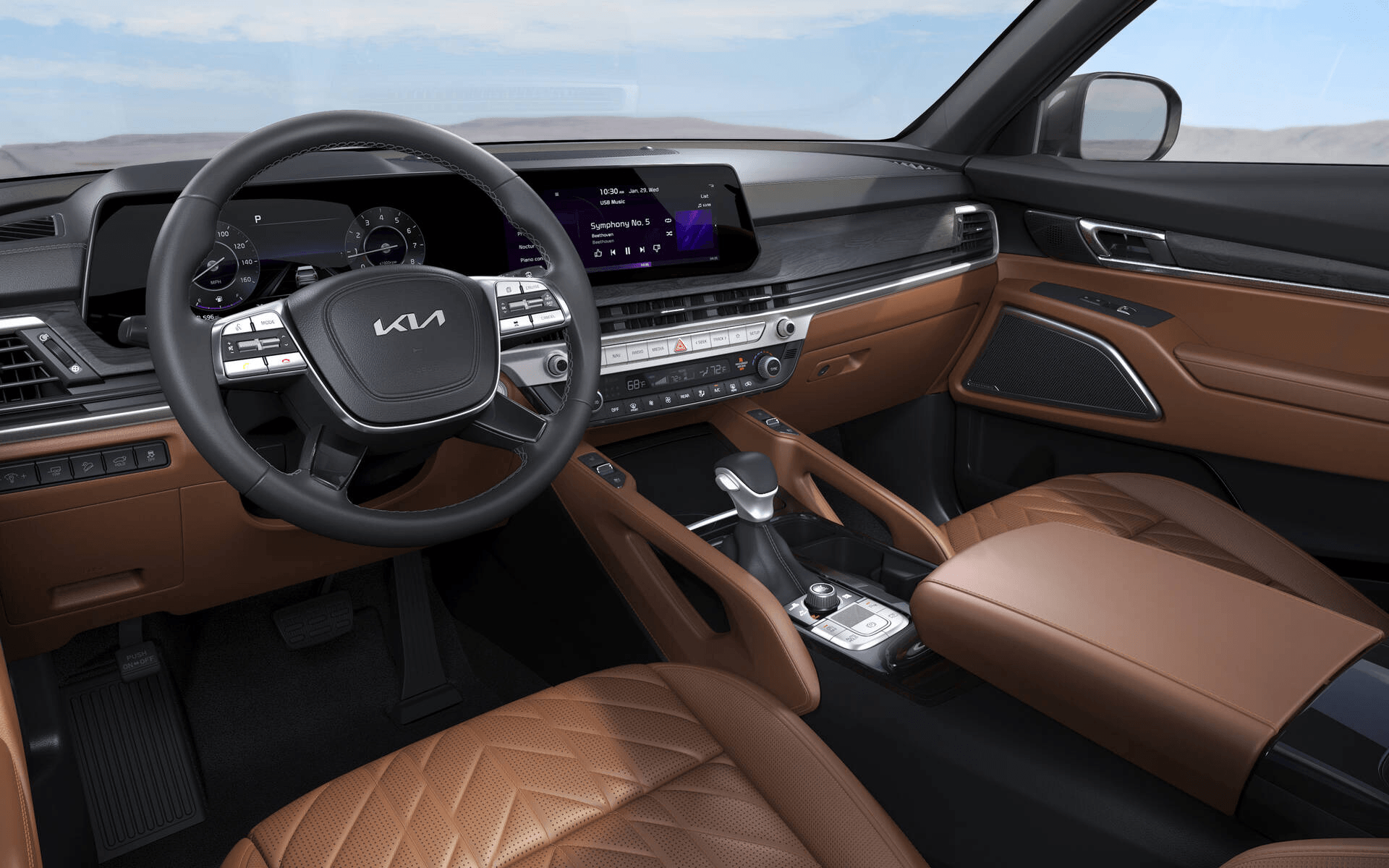 telluride
palisade
All three vehicles come equipped with a host of cutting-edge technology for your convenience, that include a large 10+ inch touchscreen, wireless Android Auto & Apple CarPlay, wireless phone charger, ventilated and heated seats and much much more. 
The fully loaded Pilot includes a Bose premium sound system while the Kia and Hyundai offer a Harman Kardon premium audio system. Where the Pilot outclasses the competition with technology is with exclusive features like wifi hotspot capability. 
The Telluride, Pilot and Palisade all offer near identical cargo capacity across the various options with seats folded down or all 3 rows in use. The spaciousness of the rear passenger seats varies with the Palisade and Telluride offering more room in the 2nd row while the Pilot offers a more spacious 3rd row for passengers. 
If you plan on using all 8 seats in your 8-passenger SUV and don't want to settle for an entry-level trim then the Pilot is definitely the vehicle for you. Both the Telluride and Palisade opt for 7-seater options on the higher trim levels, while the Pilot offers an 8-seater option on the higher-end touring and black edition trims.
pilot
telluride
palisade
All three SUVs come loaded with safety features across all trim levels, including the entry-level trim option. Staples like adaptive cruise control, lane-keeping assist and blind spot monitoring are available across all 3 brands. 
Where the Pilot separates itself is with the Honda exclusive Traffic Jam Assist. Along with death and taxes, traffic is one of life's inevitabilities. Honda's traffic jam assist helps remove this annoying constant of life by automatically keeping you in the centre of your lane, braking to a complete stop and even resuming following the vehicle in front of you once they begin to move forward. 
Exterior Design
The Pilot, Telluride and Palisade all feature cutting edge designs that give each vehicle a fully unique and distinctive look: The Pilot received a redesign in 2023 while the Palisade underwent a mid model facelift that includes an all new front grille.
pilot
telluride
palisade
While style is subjective, all three SUVs offer head-turning looks that represent some of the best vehicle designs on the road today. 
You really can't go wrong when comparing the Pilot, Telluride and Palisade. All three offer similar price points and cutting-edge features that rival any vehicle on the road today. While all three offer a unique look that can help you make your choice, the Pilot's exclusive features like Traffic Jam Assist, Wifi hotspot and 8 seating options on the higher trims give the Honda enough to differentiate itself from the two very similar Korean-made SUVs. 
It's very likely that you won't know if the Pilot is the best SUV for you until driving it, stop by our showroom or contact us to schedule a test drive today!